Barbara Corcoran Shares Winning Formula To Help You Get A Raise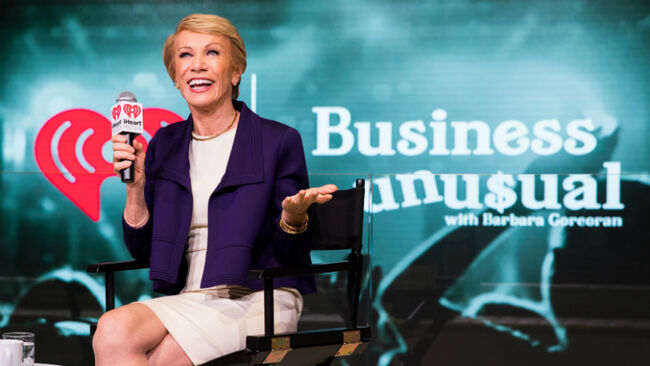 Ladies, it's time to get paid!
If there's one thing Barbara Cocoran knows how to do, it's how to talk money. In the latest episode of Business Unusual, the Shark Tank investor shared her decisive formula to help women get what they truly deserve when it's time to talk to your boss about getting a raise.
Now, one might think her advice would begin with keywords to say to your boss when the time comes for you to ask for a larger salary. However, Barbara explained that your raise petition begins with your actions, rather than your words. "Take on every added responsibility you can possibly get your hands on in the company. Don't shrink from anything that's offered to you. Take it on. And even if it's not offered, help your boss, your team members with anything they might need help with. What you're really trying to do is collect as much under your skirt as you possibly can in the responsibility area for one reason only. When you go in for your first raise, you want a list of everything that you've taken on that wasn't included in the first position that you were hired for," she said. "And more importantly, you want to be paid for it. You can't go in and ask for a raise and just say I've done a great job and I'd really like to have a raise. No, no, no. What's your added value? You want to pull out your list of 30 other things that you've taken on as responsibility happily, to help your boss, to help your co-workers, but now's the time that you say, 'And I wanna be paid for it.' That's the way you win a raise."
Barbara also provided a fool-proof way to ensure your boss doesn't just brush off your request. "And if you're turned away, and say it's too early, not in the budget and all the other corporate lies that people really tell you that aren't true because trust me, somebody there is getting a raise this month, you want to ask for a future review in a month or two again with the same person and you want to ask what else do I have to do to merit a substantial raise in this business. I feel like I'm worth it and I want to know specifically what you expect of me," she explained. "And then go back in with the new list and ask to be paid for your new responsibility. That's how the guys do it. That's how they get ahead."
"So girls, come on, forget you're a girl out there," she insisted. "When it comes to money, pretend you're a guy. I've done it my whole life. I don't think I look like a guy. I don't think I'm obnoxious or I don't think I'm overly aggressive and nobody's used the B word to describe me that I know of, but let me tell you something, I get paid really well for everything I do because I know I deserve it. I think like a guy."
If you have a question to ask Barbara on a future OnDeck-presented episode of Business Unusual on iHeartRadio, tweet your inquiry to @BarbaraCorcoran and stay tuned to see if the entrepreneur offers you some sound advice!
To hear more of Barbara's raise talk advice, check out the full Business Unusual episode below.
Are you looking into business financing? If so, your simple business financing starts here: https://www.ondeck.com/barbara. To speak with an OnDeck Loan Advisors, call 888-269-4246. Or, if you're ready to apply for a business loan, click here to get started!
Business Unusual with Barbara Corcoran on iHeartRadio gives listeners an inside look at the entrepreneur's decades-long career, including her first-person stories of triumphs and pitfalls. As you listen to her new podcast, you'll learn a wave of advice that has helped a new generation of young entrepreneurs achieve their goals. As one of the judges on ABC's Shark Tank, Corcoran knows a thing or two about the inner workings. After all, she had 22 jobs by the age of 23, built a $5 billion business with a $1,000 loan and conquered the New York real estate world.
Photo: Katherine Tyler for iHeartRadio