Barbara Corcoran Explains Why You Should Start To Grow Your Business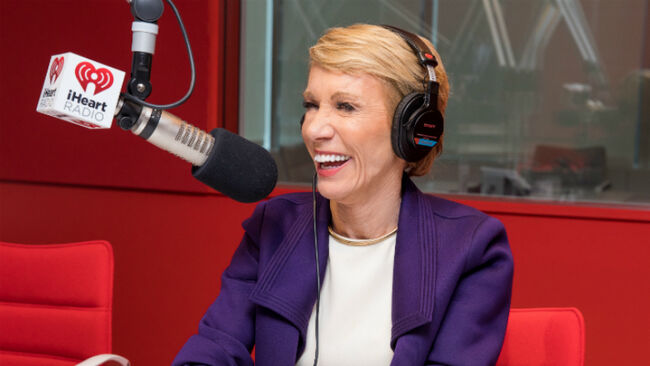 Go big or go home! The saying rings especially true in the world of business. While some may say staying the course when you're business begins to hum along nicely is what leads to steady growth, Barbara Corcoran believes otherwise. In the latest episode of Business Unusual, the Shark Tank investor explained why you MUST go big and how staying small is a one-way road to regret.
"If your business is up and running and relatively successful, there always comes a time when you're faced with an important decision to make. I like what I'm doing, is it smarter to stay small as I am, or must I go big?" she began. "I had my sights on being number one. Just for that reason alone, I had to go big." And that's what she did! But, how did she do it? Well, Barbara shared a step-by-step explanation of what drove her to grow her business.
"Number one. There's no other way to be the best in your field unless you're also the biggest. Think about every most successful brand out there. They're always big. You might be a durable boutique and certain people like you, but if you want to be the best in your field, you've got to also be big. It comes together," she explained. "People don't respect you enough if you're not the biggest."
"Number two. Size matters to the consumer," Barbara continued. "The consumer wants to know that they're dealing with a credible firm. Whether it's true or not, big means credible in the consumer's mind, so you have no choice on that account."
"Number three. Bigger attracts better talent," she added. "If you want to have talented people with more brainpower, people that really challenge your own intellect at how smart they are and what they could do along with you, and people you could delegate to and trust, you need a big brand or big business to attract them in, and then, you need a big brand where they see the opportunity for advancement to keep them with you."
"Number four. You need to have a defense against your competitors, and the only way to defend your people against your competitors so they're not stolen from you is to outpace your competitors and stay bigger. That's the truth," she insisted.
And for her last piece of advice, Babara said it's her "most important reason of all, even if you don't listen to the others is you don't want to look back as a small company, 10 years, 20 years from now and think, 'I wonder if, I wish I had, I could have, I could have, I could have.' Uh-uh (negative)," she said. "The saddest people in life are the people that didn't put the pedal to the metal, didn't try their best to see as far as they could go. You had it right there in front of you, and you chose not to run with it. No, no, no, no. You don't want to be that person 15 years from now. If you're thinking of staying small or go big, don't even think about it. Get it out of your head. You gotta go big. Period. End of story."
If you have a question to ask Barbara on a future OnDeck-presented episode of Business Unusual on iHeartRadio, tweet your inquiry to @BarbaraCorcoran and stay tuned to see if the entrepreneur offers you some sound advice!
To hear more of Barbara's business growth advice, check out the full Business Unusual episode below.
Are you looking into business financing? If so, your simple business financing starts here: https://www.ondeck.com/barbara. To speak with an OnDeck Loan Advisors, call 888-269-4246. Or, if you're ready to apply for a business loan, click here to get started!
Business Unusual with Barbara Corcoran on iHeartRadio gives listeners an inside look at the entrepreneur's decades-long career, including her first-person stories of triumphs and pitfalls. As you listen to her new podcast, you'll learn a wave of advice that has helped a new generation of young entrepreneurs achieve their goals. As one of the judges on ABC's Shark Tank, Corcoran knows a thing or two about the inner workings. After all, she had 22 jobs by the age of 23, built a $5 billion business with a $1,000 loan and conquered the New York real estate world.
Photo: Katherine Tyler for iHeartRadio