Ellen DeGeneres Responds After She's Slammed For Supporting Kevin Hart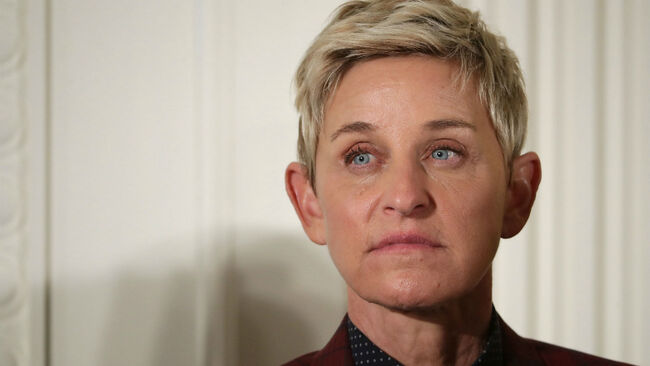 Ellen DeGeneres is not backing down in her support of Kevin Hart.
After the daytime talk show host received major backlash for defending the controversial comedian by begging him to host the 2019 Oscars (despite his resurfaced homophobic tweets), she tweeted a brief explanation of her viewpoint alongside a snippet of her Friday (January 4) interview with Hart. "However you feel about this, the only positive way through it is to talk about it," she wrote on Twitter. "Thank you for being here, @KevinHart4real. ❤️"
As previously reported, Hart opened up for the first time about his 2019 Oscar controversy (he stepped down as host last month after refusing to apologize for resurfaced homophobic tweets) on the DeGeneres' show this week. It was during the interview that she revealed how she stepped in to help Hart get the hosting gig back. "I called The Academy today, because I really want you to host the Oscars," DeGeneres explained. "So, I called them. I said, 'Kevin's on. I have no idea if he wants to come back and host, but what are your thoughts?' And they were like, 'Oh my, God! We want him to host. We feel like maybe he misunderstood or it was handled wrong or maybe we said the wrong thing, but we want him to host.' The Academy is saying, 'What can we do to make this happen?' And I'm saying to you, as one of the smartest people I know, one of the funniest people I know...what we're going to get to see onstage with you hosting the Oscars is sophistication, class, hilarity and you growing as a person." She added: "There are so many haters out there. Whatever is going on the internet, don't pay attention to them. That's a small group of people being very, very loud. We are a huge group of people who love you and want to see you host the Oscars."
Many people took offense to DeGeneres' words, especially her calling those offended by his previous homophobic tweets "haters," and her overall support of the comedian.
Hart received almost immediate backlash for his appointment as host of the 2019 Oscars after multiple homophobic tweets he shared from 2009-2011 resurfaced. In one of the tweets, posted in 2011, Hart wrote: "Yo if my son comes home & try's 2 play with my daughters doll house I'm going 2 break it over his head & say n my voice 'stop that's gay." The backlash only intensified after Hart refused to apologize for his controversial words (saying he had already previously apologized), and ultimately, he chose to step down from hosting the show.
Photo: Getty Images