Barbara Corcoran Reveals The Best Ways To Control Your Smartphone Usage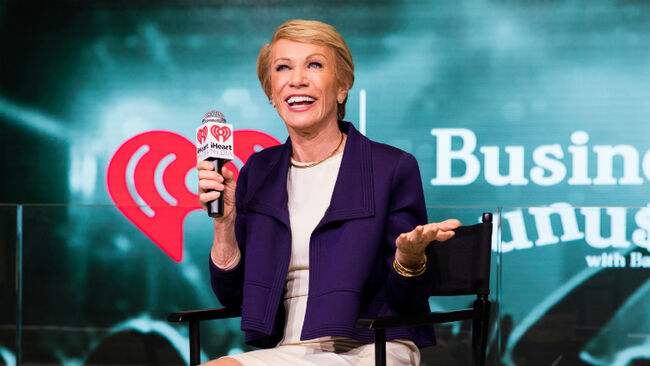 Raise your hand if you need a little smartphone rehab!
Barbara Corcoran is all about using the tool to stay connected and in the know, but she knows all too well that you can't make big business moves if you have to be glued to your phone 24/7. In the latest episode of Business Unusual, the Shark Tank investor walks you through the steps to make yourself the boss, not your phone.
"Time spent staring at your screen definitely takes away from the important things in life; let's say your family, your business, whatever you want to focus on. And one thing I can guarantee you that that kind of time spent is making you less productive. I'm here to tell you how I got myself back on track in hopes that there are a few tips there that might help you get better control of your phone so that you're the boss versus your phone taking charge," she began. "Here are five ways to take yourself to smartphone rehab, as I call it, and come out focusing on the things that are important to really get done."
"Number one. I decided to chunk my day up, to actually look at what I was doing for an entire week and see where I was spending my time," she explained. "Then the second part of the chunk is I took all of my personal out of my workday." Barbara went on to add: "The third point of a smartphone rehab that helped me a heck of a lot is this: don't go down the rabbit hole."
The last two rules seemed to be the most crucial with Barbara saying unplugging gives your mind a "clean break."
"Number four. I decided to give my phone a new home outside my apartment," she said before going into her cardinal rule. "Get your phone working for you, not you working for your phone," Barbara explained.
If you have a question to ask Barbara on a future OnDeck-presented episode of Business Unusual on iHeartRadio, tweet your inquiry to @BarbaraCorcoran and stay tuned to see if the entrepreneur offers you some sound advice!
To hear more about Barbara's smartphone rehab, check out the full Business Unusual episode below.
Are you looking into business financing? If so, your simple business financing starts here: https://www.ondeck.com/barbara. To speak with an OnDeck Loan Advisors, call 888-269-4246. Or, if you're ready to apply for a business loan, click here to get started!
Business Unusual with Barbara Corcoran on iHeartRadio gives listeners an inside look at the entrepreneur's decades-long career, including her first-person stories of triumphs and pitfalls. As you listen to her new podcast, you'll learn a wave of advice that has helped a new generation of young entrepreneurs achieve their goals. As one of the judges on ABC's Shark Tank, Corcoran knows a thing or two about the inner workings. After all, she had 22 jobs by the age of 23, built a $5 billion business with a $1,000 loan and conquered the New York real estate world.
Photo: Katherine Tyler for iHeartRadio